Distribution of many packs gift of Brunello Cucinelli – July 2022
Thanks to the generosity of Brunello Cucinelli, the volunteers of Amici di DaGama, during their trip at the end of July, have distributed many clothes at children, girls and boys in need. Thanks to the Donor!
Letter of Brunello Cucinelli to the volunteers: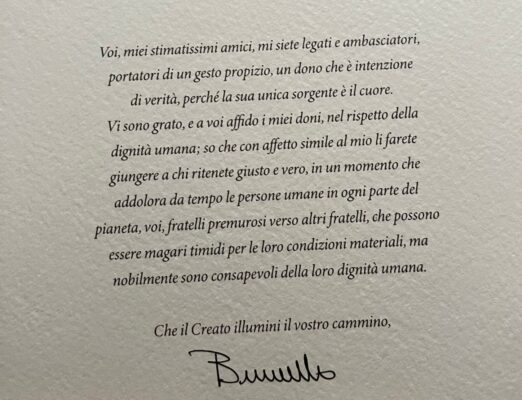 Don Paolo thanks Brunello Cucinelli:
We financed the construction of a well in Buntungwa, the compound near the mission where many of the children we have adopted are located. Sister Sabine told us that there was no drinking water in the whole village. As can be seen from photos. That well has now become a precious resource for everyone!
Acquisition of 30 beds for 'Itezhi Tezhi District Hospital'
Thanks to the help of many benefactors, we contributed to the purchase of 30 hospital beds that have arrived and are already operational in Itezi Tehzi in the only hospital in the area. "Itezhi Tezhi District Hospital" has 50 beds in all plus 6 for children in Maternity.
The district of Itezhi Tezhi has about 100,000 inhabitants, scattered in numerous villages, between the lake of the same name, the plain of the Kafue river and the slight hills further north.
Here Don Michele, a Comboni priest, works to help the population who continue to die of malaria, tuberculosis, meningitis or crocodile bites.
The district, located in the central area of ​​Zambia, is more than 500 km from the Luanchya area where we work with DaGama and the missionary nuns of Assisi.
Chapter of Chililabombwe
In the little town of Chililabombwe, near Congo, has been built ( thanks to a donor) a little – very beautiful – Chapter, in the convent of the sisters , where a lot of zambian people go to pray.
Realization of TWO ARTESIAN WELLS in the little town of Chililabombwe
 This year DaGama Onlus also funded the realization of two Artesian Wells – in very poor farms (very low-income communities) near the little town of Chililabombwe.
Extension of MOTHER ANGELA CONVENT SCHOOL
The Extension of Mother Angela Convent School is continuing. The very beautiful school permits the education for poor villages in the north of Zambia from grade 1 to Grade 12.
ST WILLIAM COMMUNITY SCHOOL Renovation, Walale
Amici di Dagama Onlus has built St. William School some years ago. The school – in a very poor farm near Luanshya – was damaged from acts of vandalism. Recently it has been completely refurbished.